Our bussiness partners
They know our company and our products more than we do. Kickscooters are their life. For all of them. They can advise like no one else. If you visit them, you know from first moment, you are in good hands.
Vincent Gooiker
Vincent is the backbone for all foreign sales. Originally he was a teacher, he is a self-taught scooterman, now he owns the family business with his wife Jolanda, almost two decades. He has built a stockroom with thousands of adult scooters. Twenty years ago he started Stepteam Twente, with two guys. From 3 members they grew out to 50 members. The legendary maker of carbon scooters Peter Groeneveld is member of this team. Vincent is a sportsman in heart and soul, a multiple Dutch champion scootering, in 2017 he participated Giro d'Italia, he finished the Marathon of Berlin within four hours, in short he is a tireless all-rounder. How does he find time to ride his yearly 5 thousand km on his scooter? Vincent speaks three languages, at least once a year he visits the production of his suppliers to be sure everything is all right, not just for him but above all for his clients. You can borrow a scooter for free in Hengelo, but you have to bake pie instead. Drop by at their Stepshop place to test scooters and find out scootering is fun!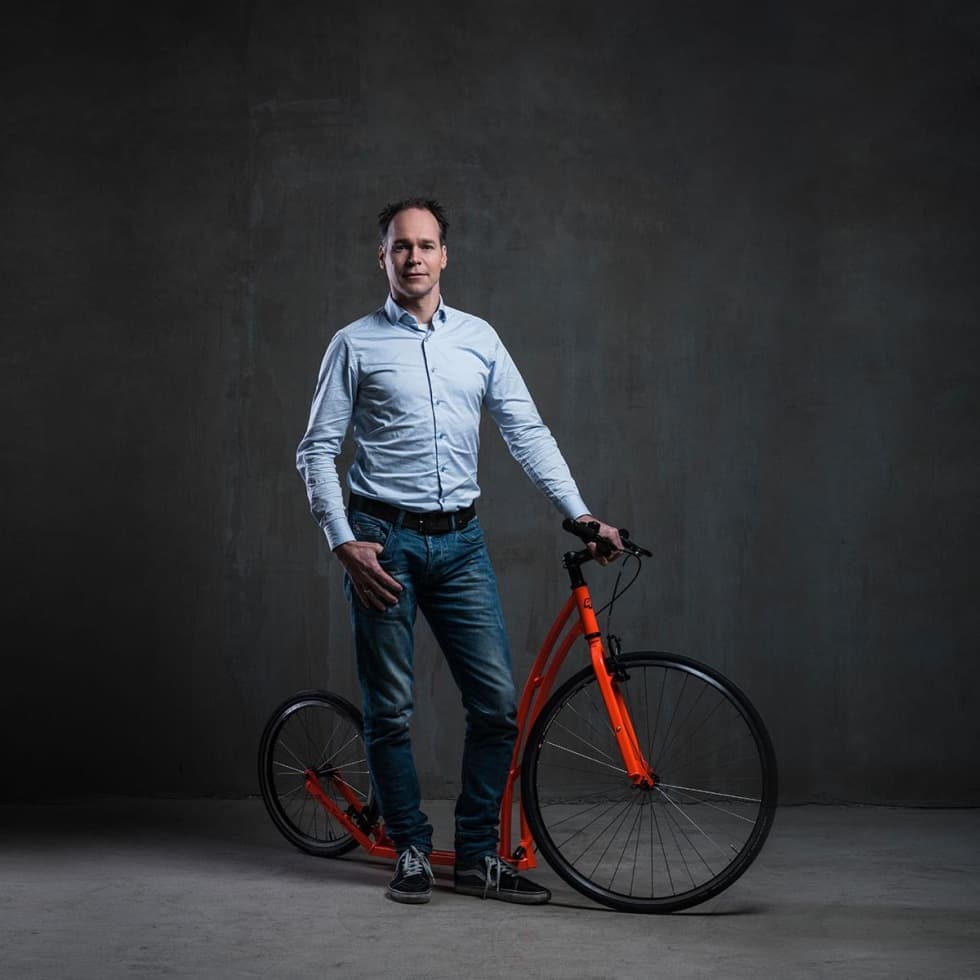 Flow Footbike
STENDALER STRASSE 4, BERLIN, 10559
0049 (0)176 220 333 67
info@flow-footbike.de
Dein Tretroller
DAMMACKER 37, SCHAFFLUND, 24980
0049 46649390020 info@deintretroller.de
Beosport
KOLONIESTRASSE 1, 45897, GELSENKIRCHEN
0049 2 0994 770810
info@beosport.de
Bike Station Preisinger
Holzstrasse 17, 82041 Oberhaching 0049 8962830108
TretrollerLiebe
Neustadt 21, 29225 Celle
+49 (0) 5141.3013265
Sfahrraedle
IM SCHACHEN 12, 88447, BIRKENHARD
0049-07351-301498 kontakt@sfahrraedle.de
Movement Sports
BREISACHER STR. 70, 40468, DÜSSELDORF
0049 0 211-9513490
info@movement-sports.de
OP Scooters
MONKRIDGE 19, N88DE, LONDON
0044-7841538195
opscooters@yahoo.com
Trotineo
RUE DE LA RABETTE 17, 78730, ROCHEFORT EN YVELINES
+33 963 647 059
contact@trotineo.fr
My Footbike
VIA 1° MAGGIO 18, 21040, GERENZANO (VA)
0039-348 1438824
maria@myfootbike.it
Stepevents
OLIESTEEG 10, 3811, JW AMERSFOORT
0031 33-475 95 94
sales@sportstep.nl

Free Wheely
BUITENVELDERTSELAAN 32, 1081, AA AMSTERDAM
0031 20-7372119
amsterdam@freewheely.nl
Elco Tweewielers
IJSSELMONDSELAAN 358, 3064, AW ROTTERDAM
0031 10-4515420
info@elco-tweewielers.nl
Stepplaza
LOTTING 7, 7921, WL ZUIDWOLDE
0031 633665552
mobileproducts.hans@gmail.com
Stepshop
KANAALSTRAAT 31, 7553, JV HENGELO
0031 74-2919903
info@stepshop.nl
Stepwinkel
VECHTSTRAAT 28, 8021, AX ZWOLLE
0031 38-7501608
info@mgshops.nl
Samen Steppen
Achterdijk 10, 3998 NG Schalkwijk 0031 653404048
VELUWe-step
Nieuwe kazernelaan 2 Ede 0031 615501606
Tretrollerverkauf
Industriestrasse 4, 1220 Wien 0043 676 309 47 79 hannes.totter@tretrollerverkauf.at